Forums : Appearance : What is the ugliest mod you can do? (54739 Views)
October 28, 2005
chevys arent as bad as dodges....or isuzu....or 'yotas...well 2x4 yotas.
October 28, 2005
LUND had it's day,20 years ago!!!Some of the older trucks look good in it,I think it looks best when it's all in the same color though!!!
October 29, 2005
lets see here. anything made by lund, fart cannons, lowering a 4x4 (just dont seem right to me), any rim bigger than 26", light up exhaust tips.
Kyle
October 29, 2005
Mitsubishi Raider
October 29, 2005
This is my favorite thread of all time. I'm always coming up with new things that piss me off and thinking about breathing new life back into the thread, but instead I just suck it down. (and usually end up lashing out on someone randomly. j/k)
Josh
October 29, 2005
man, mitsubishi shouldve stayed out of the truck market! that is a horrible looking truck.
October 29, 2005
After seeing the commercial where it made the other truck pee....haha, maybe the honda ridgeline, thats about it. I actually would like to hook up a chain to the back of both of them and see who wins. The miti has the cab style of a itty bitty dakota IMO. oh well, im sure theyll sell some, and make more money than i do hah
October 29, 2005
sure...people will buy them. theyll think they are "cute" hahaha.
Got another ugly mod....APC!!!!
October 29, 2005
lifted 2 wheel drives, lightning airdams without sideskirts
October 29, 2005
Any mod on a chevy or a dodge is ugly.
I think it all depends on the whole truck. I don't like bug shields or vent visors but they looks good on some trucks. I personally don't like wheels bigger than 18 inches, think they rob too much power, but they do look good on some trucks, especially the new body style.
That Raider pos IS just a rebodied Dakota. I love their commercial too, even though it is dumb.
I just can't believe so many of you hate curb feelers.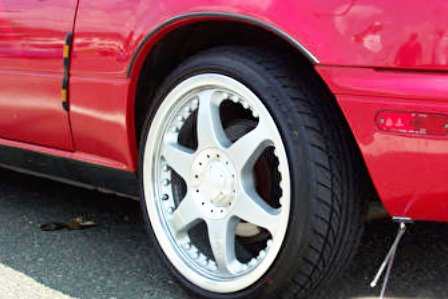 October 29, 2005
curb feelers are the best. especially the ones that have those "diamonds" on it.
October 29, 2005
This thread is funny, reading some of the mods and people saying that they like, its a godo debate and some good laughs, my ugly mods ahve been listed, already. ohh and as for loud exhaust, loud is just fun, and the exahust on my old ranger sounds badasss. i had a few guys that drive muscle cars tell me it sounded mean and clean.
CRR
Post Message
BECOME A MEMBER TODAY!
Join.
Forums : Appearance : What is the ugliest mod you can do?