June 4, 2011
My birthday was a couple weeks ago, and I got some cash, so I decided to blow it by buying parts for my truck that I`ve wanted for awhile, and went to Pull A Part in North Charlotte.
The main thing I was going for, was the disk brake components from a 94-04 Mustang, so I can finally ditch the drum brakes on my truck. This was my second attempt at doing this. Tried back in February, but wasn`t able to get all the parts off the car b/c I didn`t have all the tools I needed, and a seized bolt broke the only 15mm socket I had w/ me.
So I went real prepared today. Had a complete set of impact sockets w/ me, and a 3/4" drive ratchet to use as a cheater, just in case I ran into any stuck or seized bolts. Thankfully it all came apart. Hardest part was getting the rear end to rotate so I could get the pin out of the rear to pull the C-clips on the rear axles.
Had hoped to get it installed today, but I was just too tired when I got home, and I didn`t feel like sitting in the heat today to do it. So the plan now is to take all the parts to work w/ me, and sand blast all of them to clean the parts up, and then paint it all, probably black, so its all clean and doesn`t rust. Probably be 2 or 3 weeks before I`ll be able to get them installed. I`ll also be able to use the good bandsaw at work, to cut out the portion of the main bracket that has to come out, so that it will clear the axle. Beats using a hacksaw or a cut off wheel in my grinder.
The next thing I went for, was a tailgate. I started working on relocating the handle in my tailgate several weeks ago, but managed to screw it up pretty bad, and pretty much reached a stage where things just weren`t working. The cuts I made were really bad, leaving huge gaps in things, so I had huge welds that were going to take months to grind smooth, and then I cut the recessed area out of the tailgate, and it pretty much lost all its rigidity, causing the metal to bow out, and I just couldn`t fix it, so I got a new gate.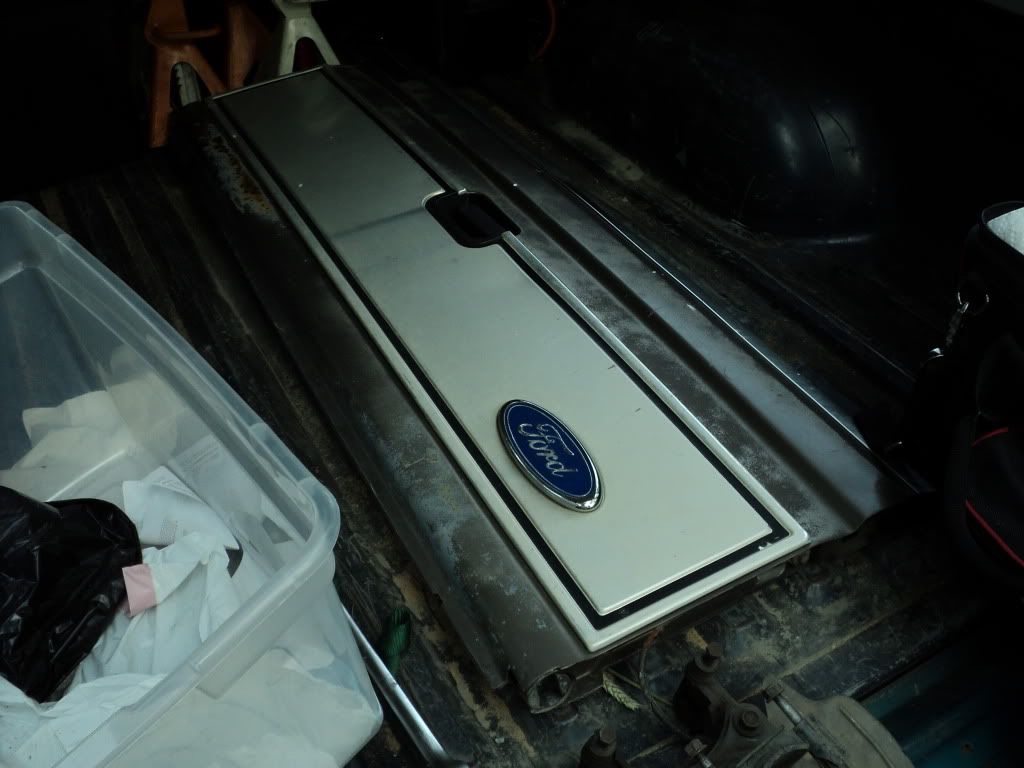 Has some minor surface rust on it, but overall its in really good shape. No big dents at all in it, and from what I could find, only just a couple very small dents, and that`s it. Depending on what the weather does this week, and how thing`s go at work, I may start working on this in the evenings this week.
And last, but not least, I picked up a pair of Explorer hood hinges. On Jan 1, 2007 I was driving to work, and my hood flew open on me, bending the crap out of the stock hinges, and I`ve just never gotten around to changing them out, so while at the yard I kept an eye out and found several Explorers, so I grabbed 2 driver side hinges.
Unfortunately, I discovered after I got home, that one of the hinges is bent. The green hinge came off an Ex that some how ended up on the pass. side front roof corner, so apparently it bent the hinge. It doesn`t retract as far as the black one, and then opens farther than the black one. After laying them side by side in the pic above, I was able to tell where the bend is. I`m going to attempt to fix it at work this week using one of the small presses we have, but I`m not holding my breath that I`m going to be able to fix it. Thankfully it only cost me 6 bucks, but it still sucks.