September 21, 2005
That took some work to get that ten wheeler in there like that!
September 21, 2005
Lost my interior on this one!
September 21, 2005
this is my worst that i have on photo, 35" tire and layin the frame
September 21, 2005
DiehardFordGuy,
Well I wasnt involved in the "getting stuck" just the rescue. The ground just swallowed it for some reason. I had just driven the F800 loaded with sand thru the same spot and so did the concrete truck that poured the footing to the house the day before. And it hadnt rained either.
Getting it out wasnt too bad, I brought the F800, a load of sand, shovels, and some chains just in case. Dug it out some, filled in around the tires with sand, pushed it out with the forklift that rides on the back.
He really just need another driver to drive the truck while he pushed. That Volvo is awesome tho, posi lock both axles together.
He got it stuck another day(without me) in a yard. Guy tried to pull him out with a Dodge, couldnt do it. He told him to not to even try nomore if the Dodge wouldnt do more than that. Ended up shoveling the masonary sand that I carried the day b4also. Then he drove it out on its own.
Its so dry around here now, it would be hard to get stuck anywhere.
Matt
September 22, 2005
That really sucks!!
September 22, 2005
Love seeing that superduty getting pulled out by a sporttrac. Here is mine. Happened Wednesday.
September 22, 2005
i know its a chevy but this is the worst stuck ive seen in person he wasnt paying attention and trying to stratle the ruts and fell into the big hole, he was right side up untill a truck started to pull him out then it kept falling into the hole.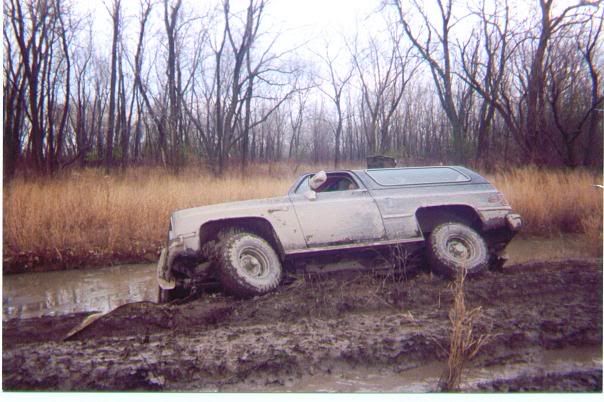 September 26, 2005
The red truck that was on supposed 49s is only on 44s. He upgraded to 49s after that incident.
September 26, 2005
Here is the stuck pic
Here is the damage
September 26, 2005
Why did they only take one lol
September 26, 2005
Ive got stuck only twice, neither time was I mudding. I got stuck in some unseen mud while unloading some boards. and I got high centered on a rock while camping. (backed up over it)
nate
September 28, 2005
Howz this for a stuck.
RED DEMON
Post Message
BECOME A MEMBER TODAY!
Join.