October 1, 2011
Hello were is everyone ???.
October 1, 2011
hiding from the rain!
October 2, 2011
Morning everyone,
I am enjoying the cooler weather, nice for working and no bugs to annoy you. only thing is the rain is making it a bit difficult to get out there and mow the lawn. I hope it dries out enough to mow today otherwise it is gonna get real long and look like a hayfield
October 2, 2011
I mowed it yesterday and it left all kinds of marks in the grass from the wheels turning on the riding lawn mower.
but with all the rain last night it really won`t matter.
October 2, 2011
Applefest weekend here in Hilton. Brian and I worked at the Boy Scout booth. We have potato pancakes, chicken fajitas, and apple crepes. I was there 7:30-9:00 and then 12:00-3:00. Brian was there from 7:30-3:00. We got the booth ready and mixed up the potato pancakes at 7:30. I didn`t get to the car show this year.
October 3, 2011
I missed the Applefest too, I was escorting a friend who is driving her Pink Saleen Mustang from Buffalo,NY to Burbank,CA.
Left Cheektowaga Town Park under Police Escort. 1st stop was just across the state border where the Erie PA Mustang Chapter picked up the escort duties. They brought us to Max and Erna`s in Erie, PA where lunch was served and a G2G was held. Wish I could have continued on to Cleveland because there`s a show called the Piston Powered show, anything that uses a piston could be entered, there are planes, cars, trucks, etc there.
October 4, 2011
sounds like it was a good time Mike.
Dr appt today for my hand & shoulder and got injections to help relieve pain.........one needle about 4 inches long started in at my wrist and was buried into my hand. I don`t mind needles but this one felt like a bee stinging and stinging real DEEP and then one in my shoulder that was not quite as bad.
at least the weather is drying up so Thursday when I am off I can mow the lawn.
October 5, 2011
Hey I`m here. Been outts work almost 9 months now....too bad I`m not pregnant.........uh..ok...skip that. Woulda been a tax write-off. Lord knows I need that. Not gonna get nuthin back this year taxes.
Dr.s appt. Oct 25th once again. Just wish this thing that feels like a plate under my skin WAS a plate under my skin.
Stay well.
Phil
For God so loved the world that He gave His only begotten Son, that whoever believes in Him should not perish but have everlasting life.
October 9, 2011
Phil
despite the oil life meter and owners manual the oil was looking dark so the truck is getting it`s first oil change at 8,625 miles.
almost all miles are highway and even with conventional oil you could go 7,500 miles driving highway (so they say) but I just cant bring myself to go 10,000 miles on the oil.
October 14, 2011
Hi guys. We are going camping for the last time this season this weekend. When Brian gets home he is going with me down to Bath. After Hannah is done with swim team practice Renee will bring her down. The fun part is Brian gets to guide me into the site.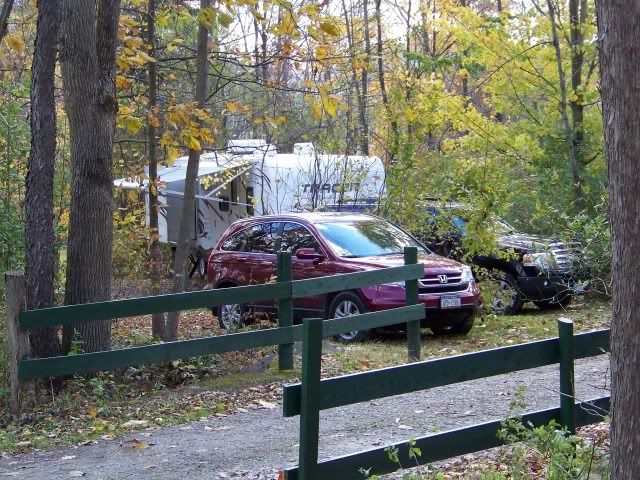 This was from Mothers Day weekend. I have to get on the one lane bridge and get around the shrub in the middle of the front of the site. We have been on that site enough that I can just about do it without a spotter. I have had people on the sites around it come watch because the don`t think I can get the 30` TT on the site. I should start making bets. Maybe I can make enough to pay for the weekend.
October 14, 2011
Doug, if you need a second job I can help you out
a couple years ago I traded my Dad his gas powered leaf blower for my electric one because he had a hard time starting it and figured the carb just needed a good cleaning because he uses and leaves old gas in stuff but I too had a hard time with it and then it wouldn`t start at all. took it apart to find the head gasket was blown and the parts I ordered just came in so I got myself a little project for tomorrow.
October 15, 2011
repairing the leaf blower I broke a piston ring and cracked the piston skirt.
gonna quit while I am ahead and buy a new one. new parts would be another $30 and if I do it again I will be out even more.
Post Message
BECOME A MEMBER TODAY!
Join.